Property Love: Love Your Property & It Will Love U and Your Lender Back: National Article!
Property Love…Learn why its important to love your property in sickness and health! Lenders, the guys and gals who lend you money care about the health of your property and so should you because if you take care/love your property it will love you back with income! Check out this video and national article published last month below for more info!
Contact me Professor Real Estate® for real estate lessons that will help you make smarter decisions, for real estate and motivational speaking engagements and consulting!
Also follow my RSS Feed to learn more and Hit "Like" Professor Real Estate on Facebook!
Talk to Hollander Realty LLC about smart successful purchases and sales of Florida property. www.hollanderrealty.com
Disclaimer: Professor Real Estate® written materials apply generally to real estate subjects and are not intended to apply to specific legal issues.
Copyright © 2012 Suzanne Hollander, Professor Real Estate® The People's Professor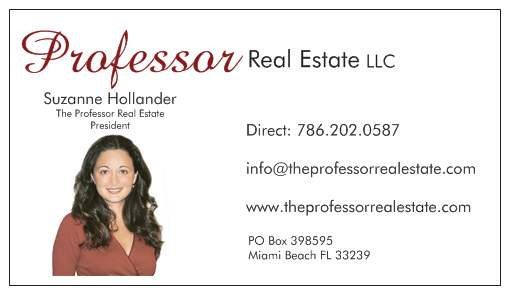 The People's Professor – Professor Real Estate®

Professor Real Estate® Social Media